Yogi Adityanath : Early Life  
योगी आदित्यनाथ, प्रारम्भिक जीवन
Yogi Adityanath , Uttar Pradesh Chief Minister is celebrating his 48th birthday today today on 5th June 2020 .. For the benefit of our readers , we are publishing a series on his early life – the story how he became a Yogi.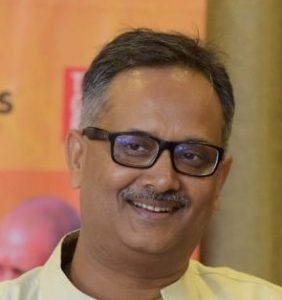 Pravin Kumar , Senior Journalist, Biographer
AIIMS, New Delhi, October 1993
When Mahant Avaidyanath, recuperating in the cardiology department of Delhi's All India Medical Institute of Medical Science (AIIMS), opened his eyes after a brief nap, he found Ajay Singh Bisht standing beside his bed. The mahant offered a feeble smile. His eyes, however, had the same questions he had asked this youth from Pauri a few months back:
'Will you become my disciple?'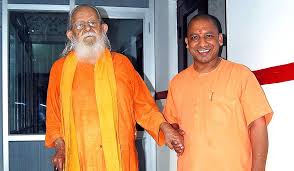 At that time, Ajay had politely refused the offer. But this time the ailing mahant was hopeful.He had been shifted to AIIMS with a heart condition from Moradabad a few days ago. The mahant was there for a function of the Sri Ramjanambhoomi Mukti Yagya Samiti As the chief of the Samiti, he was always on the move. At 74, however, Avaidyanath was hardly his old self. Besides, his frequent absence from Gorakhnath Math was leading to administrative issues. And due to lack of proper vigil, local strongmen had started staking claim to the temple properties scattered all over Gorakhpur district and around.
Although there was no direct challenge, there were whispers in Gorakhpur about the eroding clout of the Peeth. The mahant was in a desperate search for a disciple who could become his heir and run the temple administration on his behalf or in his absence. Digvijay Nath was just 48 when he had adopted him as his heir.But Avaidyanth, even at 74, had not been able to identify a disciple who could become his heir.
His best friend, Pramhanas Ramchandra Das of Ayodhya's Digambar Akhara, had been reminding him about this for quite some time. 'Aapki umra badh rahi hai. Shishya banaiye (You are getting older. Select a disciple quickly),' he would say. But the search had so far been unsuccessful. The mahant got more desperate when two youths selected one after the other for initiation, could not sustain the prolonged and rigorous process. Nath sect, after all, is known for its tough rituals. Toughest, in fact, those in the know, would say.
Of late, the mahant had started spotting a youth who was very regular at the public meetings he would address to spread awareness about the Ramajanmabhoomi movement. One day, he called the youth.'Tum kahan ke rahne wale ho? Mere karyakramon mein aksar dikhai dete ho, (Where are you from? I often spot you in my programmes.)' There was an instant rapport between the two when the mahant came to know that the youth was from Pauri and his village Panchur was just 10km from Kandi, the village Avaidyanath belonged to.
While for Ajay, meeting the mahant was like a dream-come-true, the seasoned monk, too, immediately read the mind of the youth. Ajay had chosen to study science to fathom its limits. But after three years in BSc, he had a fair idea about its limitations.
Now was the time to graduate from science to spiritualism. The offer of help came on a platter.
'Gorakhpur aana (come to Gorakhpur),' the mahant told Ajay.
Since he had just completed his graduation, the idea of pursuing post-graduation from Gorakhpur University crossed his mind. He was off to the eastern UP city. Although the mission admission couldn't be successful as he had lost his high school and intermediate certificates in a theft at Kotdwar, the opportunity to meet Mahant Avaidyanath mitigated the pain of failure.
After enquiring about Ajay's orientation, the mahant straightaway asked: 'Yogi banoge?'
After enquiring about Ajay's orientation, the mahant straightaway asked: 'Yogi banoge?'
Ajay had not expected this forthrightness. Although he had spiritual inclinations, becoming a full-time ascetic was a thought that had never crossed his mind. Besides, the many tomes on Nath sect he had read recently, had given him a fair idea about the tough process of initiation. He did not think himself capable enough to take the plunge. In fact, he was a little frightened and said a polite 'no'.
Avaidyanath had a feeling of déjà vu. Fifty-two years ago, he, too, had refused when his guru, Mahant Digvijay Nath, had made a similar offer for the first time.
Back to Uttarakhand, Ajay joined MSc (Mathematics) at Rishikesh's Pandit Lalit Mohan Sharma College. But, his connect with Goraksha Peeth's mahant remained intact. His association with the ABVP helped him keep in touch, and he met the mahant several times in Delhi at the latter's residence which he had been allotted as an MP.
So, when Ajay came to know that Mahant Avaidyanath was critically ill and admitted to AIIMS, he couldn't stop himself.As Ajay was standing beside his hospital bed, the mahant's eyes were full of hope. After a brief lull, he spoke. The voice of the soft-spoken 'peethadheeshwar' had become even milder.
'I have devoted myself to the Ramjanmaboomi movement but haven't been able to choose my disciple. What will happen if something happens to me?' he told Ajay, conveying his wish indirectly.
'Nothing will happen to you. Recover well. I will come to Gorakhpur,' Ajay assured the mahant. He, too, didn't give a direct answer.
A Gorakhpur trip after the mahant reached there, was now a certainty. He went to Panchur and told his mother about his plans to go to Gorakhpur. She thought it was for a job and agreed. She had immense faith in the prudence and judgment of her second son. It must be right for him, she thought. The father, who had retired two years previously, was now busy with his transport business and farming on ancestral land in Panchur. Anticipating that he would not approve of his going to Gorakhpur in the middle of his post-graduation studies, Ajay thought of informing him from Gorakhpur when something concrete happened.
In November 1993, he finally landed in Gorakhpur.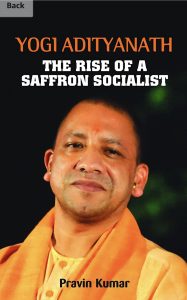 ( Excerpts from the book YOGI ADITYANATH THE RISE OF A SAFFRON SOCIALIST)
( To continue )