The Importance of Pangong Tso Lake for India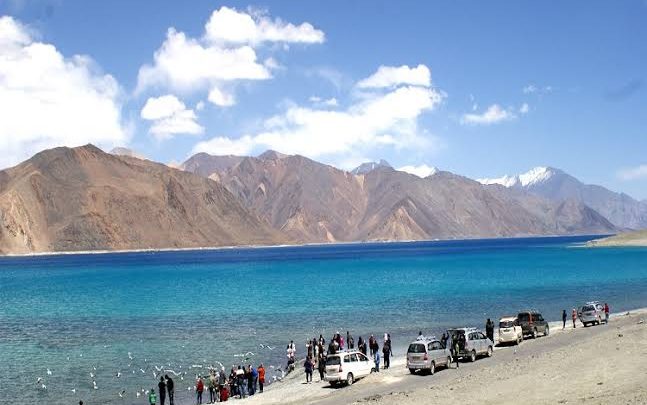 By Dr. R.D. Mishra
Pangong Tso lake, World's highest altitude salt water lake has drawn attention of world community due to recent clashes between the Indian and Chinese armies in the disputed portion of the lake called finger 4 to finger 8. Pangong Lake is an endorheic lake in the Himalayas situated at a height of more than 14,000 ft from Sea level and is 134 km long with its maximum width 6 Km, at its broadest point, which stretches out from eastern Ladakh, India to the Tibetan Autonomous Region, China. One-third of water body 45 km stretch in the western portion of it is under Indian control while the rest of the 90 km is under Chinese control.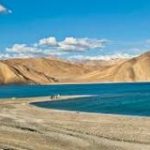 The name of the lake Pangong got from a Tibetan word Banggong Co that means a narrow and enchanted lake. In the Tibetan language, this lake is also called "Cuomu Angla Renbo Tso", which means Long-Necked Crane Lake may be due to its shape.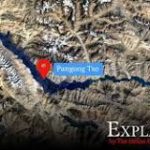 Pangong Lake is actually sea locked which was formed when the Indian Plate collided with the Eurasian plate millions of years ago. So, sea water got locked and accumulated there when these two Plates collided. That's the reason the water is salty. Pangong Lake is popular for its changing colour ability. Its colour changes from shades of blue to green to red. Even though it is a saline water lake, but freezes completely during winters. Pangong Lake is a place of scenic beauty and tourist can enjoy taking bath in the lake, but the water temperatures are almost sub zero even during summers. I had been there a no's of times to Pangong Lake and have seen after 3.00 PM mostly all tourists except few, will go back either to Leh which is at a distance of 225 KM or Nubra Valley which is at a distance of 275 KM. Only few tourist stay there to enjoy nature and serene climate of lake.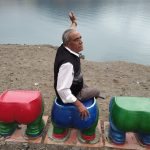 Once I came across Mr P. Sinde from Nasik, who was camping there since last fifteen days, when I inquired the reason, then he replied that when tourist go back in the evening, I go to the lake side and write poems in the serene environment of Pangong. There are retreats camps including some Inns to stay and charges are Rs 2500-4000/- per night including foods. After 2009, The Pangong Lake got its popularity amongst Indian youth when the shooting of the film 3 Idiots' took place there ending of the film with Aamir Khan and Kareena Kapoor.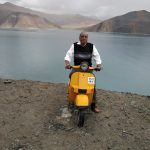 Pangong Lake falls on the Sino-Indian Line of Actual Control and to visit this beautiful lake tourists are required to get Inner Line permission from the office of the Deputy Commissioner at Leh.. Also because the Pangong Lake is situated very close to the border and tourists will be allowed up to Spangmik village, around 7 km into the lake. Tourist can explore further after getting permission from the Army till Chushul Buk village and up to Rezang La War Memorial at the Chinese boarder which is at a distance of thirty KM from the starting of Lake,.
The Importance of Pangong Lake
The brackish water Lake freezes over in winter, and becomes ideal for ice skating and polo. In 1841 legendary Dogra General Zorawar Singh is said to have trained his 6000 soldiers and horses on the frozen Pangong Lake before invading Tibet.
Besides having a huge strategic location of height, importance of the lake which has a huge source of salt and has got valuable natural resources like gold, Copper, Uranium etc. Satellite Imagery expert Colonel Vinayak Bhat (retd) believes that the mountain could contain gold deposits. His satellite imagery based analysis suggests that a larger area close to the lake what he termed as "Gold Mountain" could also hold valuable other natural resources.
The Present Standoff
There are eight cliffs, distinctive spurs, or 'Fingers' jutting out of the Sirijap range along the banks of the high-altitude Pangong Lake in Eastern Ladakh. Since Independence Indian armed forces were stationed at finger 4 and Chimes forces at finger 8. In between there was foot track, gravel road and both the forces used to patrol the area as no man's land.
During 1999, when Indian troop presence was limited because of Kargil war, China saw an opportunity to make advancement in its encroachment and Chinese forces built blacktopped metalled road, within barely three weeks, designed to take on heavy transport vehicles, from finger 8 to one Km short of finger 4, of the lake which is a distance of approximately  8 km. Pangong Tso is strategically crucial as it is very close to Chusul Valley, in the Durbuk tehsil, which was one of the battle fronts between India and China during the 1962 war. During May 2020 Chinese forces advanced with troops and armour and continue to dominate up to finger 4 areas at Sinjap up to Indian Dogra Post with tents lined up along the course of rivulets located along the contours of the spurs. Not only that Chinese side also built bunkers and observation posts between fingers 4 to 8 in the form of defence. Since then a nos of commander-level talks has taken place and on 6 June 2020 fourth round of Commander-level meeting between 14 Corps Commander Lieutenant General Harinder Singh and South Xinjiang Military District Chief Major General Liu Lin, that took place at Chushul-Moldo border personnel meeting (BPM) point at Indian side of eastern Ladakh to de escalate the situation which continued for 15 hours. During the talks, the Indian side asked PLA troops to completely withdraw from Pangong Lake and Depsang area but hopefully no commitment came from Chinese side. Before the parleys started, India's main aim was to get the Chinese People's Liberation Army remove its tanks, artillery and additional forces at Pangong Lake and Depsang areas and go back to its position of April 2020. Again on 2 August 2020 fifth round of corps commander-level talks took place at Moldo on the Chinese side of the Line of Actual Control which lasted for 11 hours, in which Indian side again reiterated, nothing less that Chinese troops go back to finger 8 area which was during April 2020, for which official statement is still awaited. Now it is nearly two and a half months with an aim to defuse the border tensions triggered by a violent clash between the two militaries in Pangong Tso area in eastern Ladakh in which India has demanded that Chinese forces should go back to April 2020 positions, but still it has not been honoured by Chinese forces and the standoff continues. The new defences suggest that China seeks to retain physical control of the area.
The formal process of disengagement of troops began on July 6, a day after a nearly two-hour telephonic conversation between our National Security Advisor Mr Ajit Doval with Chinese Foreign Minister Wang Yi on ways to bring down tension in the area The Chinese military has already pulled back slightly some area from the Galwan and certain other friction point, but not from Pangong Lake finger 4 area.
Also Read:  डिफेन्स के क्षेत्र में अब आत्म निर्भरता की घोषणा, क्या सेना हथियार लॉबी की जकड़बन्दी से निकल पायेगी ?
Now, we have to wait and watch for another round of talk and see the development otherwise we have to adopt other measures that could be anything. After all it is the matter of interfering with Indian Soil and sovereignty.
(Writer is a Director, Greater Noida Productivity Council Former Director & Head, National Productivity Council, GOI)