By Dr.  R.D.  Mishra
I often used to visit beautiful Sikkim, the second smallest state of India which is having an area of 7096 square kilometre, is bounded from its north to east by Tibet, China, & Bhutan from its east to south and West Bengal in the south and Nepal in the west. Every time my visit was thrilling and opportunity to explore more and more about the state.
During my service with National Productivity Council, at Kanpur, once I planned to visit Sikkim, and travelled from Kanpur to Lucknow Railway station by taxi to take Dibrugarh Rajdhani Express which departs from Lucknow in the evening and reaches New Jalpaiguri Railway station by next day afternoon. The said train used to be on time and I will board my AC compartment and take my reserved seat. The train journey were always comfortable except some occasion, the train will arrive on time by 12.00 Noon. After de-boarding from train and coming out of the Railway station, I will take a Taxi for  Gangtok, the Capital of Sikkim and the hilarious journey for four hours covering 120 KM starts. First town on its way is Siliguri, a part of West Bengal which is a metropolitan city, spans areas of the Darjeeling and Jalpaiguri districts, which is best. Known as The Gateway of Northeast India, Siliguri is popular for three T's -Tea, Timber and Tourism. It is located on the banks of the Mahananda River at the foothills of the Himalayas.  Siliguri is the third largest urban agglomeration of West Bengal after Kolkata & Asansol. The Siliguri Corridor also known as the "Chicken's Neck" is a narrow stretch of land of about 22 kilometres width, 60 KM long bounded by the countries of Nepal and Bangladesh lying on either side of the corridor. This is on the NH 10, which passes through army area called "Sevak" that connects India's north-eastern states to the rest of India, The entire journey is along side of first Mahanada River then both sides of river Teesta witnessing enchanting view of Himalayan hills and natural beauty. After covering a journey of 60-70 KM I stopped for taking vegetarian lunch at a road side dhaba run by a group of ladies at a beautiful scenic point on River Teesta. After taking lunch, I continued my journey towards Gangtok via Rangpo, the gateway to the state of Sikkim. Reaching at the Rangpo Police check post, my driver told to the police personnel that visitor is from India, and Police allowed entering.  At the check post foreigners are supposed to go for registration counter and get permission to enter Sikkim. Again from Rangpo it took one hour to reach through the foot hills of Himalaya along with Teesta River to reach my Hotel the Royal Plaza at Upper Syari, Sikkim. By the time I reached it was evening. Normally after such a long journey I always plan to visit Sikkim the next day. Sikkim has got Four districts namely ,East Sikkim, Population 4 Lakh, South Sikkim, Population 1.5 Lakh, West Sikkim, Population 1.35 Lakh, and North Sikkim, Population .5 Lakh.
There are many places to visit in Sikkim but due to paucity of time as I had to stay only four days I prioritised my visit to the following places so as to cover important destinations.
Also Read:  Humanism: A Manifestation of Spirituality
First day; Local places Covered
Gangtok: which is a city, municipality, the capital and the largest town of Sikkim, is the headquarters of the East Sikkim district surrounded by high hills of Himalaya. M.G Market is at the heart of Gangtok, is the main market. It is the central shopping hub l with various shops, restaurants, and hotels lined up along both sides. Neat and clean, no vehicle can enter M.G.Road and most of the market is painted with Green Colour, with lots of seating facilities for tourists.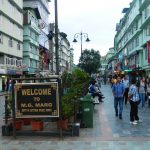 Once I saw at the entry point of M.G.Marg, a badly crushed small car with a caption on it "Art of Driving". In the market mostly shop keepers from Bihar, UP and Rajasthan, and they are polite and honest. All the times I used to have window shopping of Local spices artwork and paintings.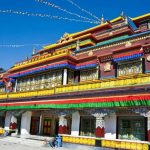 Rumteck Monastry:  From there I moved to Rumteck Monastery which is situated 24 km from Gangtok and is considered to be of the most sacred monasteries in Buddhism. The most sacred traditional Buddhist rites are performed in this very building and the religious significance of Rumtek Monastery has attracted devotees and tourists from all over the world.
Namgyal Institute of Tibetology: My next destination was NIT, housed in a traditional Tibetan-style mansion, boasts a jaw-dropping collection of artefacts related to Vajrayana Buddhism and the Tibetan culture. The main aim of the museum is to promote scholastic and cultural research. The museum displays Buddhist manuscripts, icons, thangkas a Tibetan religious painting on fabric, usually portraying the Buddha or lamas in different postures..I could see some Tantric ritual objects, which is a bowl made from a human skull. The museum also houses ritual objects, jewellery, mementos, books and documentaries on Sikkim's tradition and culture.
Flower Exhibition Centre:  It was almost afternoon after taking lunch I moved to showcases flowers from the different parts of Sikkim put together under a single roof which makes it a heaven for all the nature lovers.
Banjakhari Falls:  Next went to Banjakhari Falls a huge garden which is spread over an area of two acres of land, having small Waterfalls, with beautiful landscaped gardens around the waterfall along with beautiful statues of Lyam Lymay, Mangpas, Lepcha, and Ban Jhakri ancestors.
Ranka Monastery: By the evening I went to Ranka Monastery which follows the Zurmang Kagyud lineage of Buddhism is situated at a distance of 20 km from Gangtok. It is spread over a vast area and provides terrific scenic views to the tourists. It was really a peaceful place to get solace, and then I returned to my hotel Royal Plaza.
Second Day Places Visited- 
Baba Harbhajan Singh Temple: I started early in the morning and visited Baba Harbhajan Singh Temple which is on the way to Nathula and Jelepla Pass. Baba Mandir is the shrine which was built at the Samadhi of Baba Harbhajan Singh who was in Indian Army. People worship him as a saint and believe Baba Harbhajan guards, the lives of soldiers along the Chinese border of Sikkim.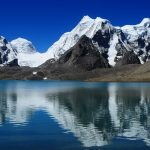 Tsomgo Lake: Then my next destination was Tsomgo Lake, 38 km away from the capital city of Sikkim, Gangtok, is among the most popular tourist places in Sikkim. A snaky road through rocky mountain topography and strident mountains which takes you to the Tsomgo Lake is a lot of adventure in itself. After visiting the lake, finally I proceeded to Nathula Pass.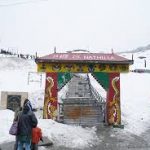 Nathula Pass: Located at a distance of approximately 56 kms from Gangtok, and at an altitude of 4310 meter. Nathula Pass the old Silk Route was a major corridor of trade passage between India and Tibet before it was closed in 1962 after Sino China war. The Nathula Pass is a corridor of passage between India and Tibet. With the initiative of our Prime Minister Shri Atal Bihari bajpai it was again opened on 6th July 2006 for trading between India and China, at a condition that India will recognise Tibet a part of China and China will recognise Sikkim a part of India, but these days trading is again closed. I visited the India war memorial at Nathula Pass. Tourist can visit up to the Indian side of Nathula Pass during Wednesday to Sunday on week days.
Third day, Places Covered: 
Namchi: I started my journey by Taxi at 6.00 AM from Gangtok to Namchi, at South Sikkim district which is at distance of 78 KM from Gangtok and reached first Temi Tea Garden, the only tea garden in Sikkim and considered one of the best in India and in the world. After staying for an hour I reached at around 12.00 noon AM at Namchi Town. It is the constituency of Mr. Pawan Chamling, Ex Chief Minister of Skkim for five successive terms since 1994 to 2019. Mr. Pawan Chamling is longest ever a chief minister of any Indian state who ruled for 25 Years.. Namchi is at an altitude of 1670 meter, is famous for Green and Clean City and having the glimpses of "Char Dham" I visited The Namcihi Monastry,, Relang Monastry  and Tendong Hill which are famous to Buddishist The world's largest statue of 118 feet height of the  Buddhist Padamasambhava also known as Guru Rinpoche, the patron saint of Sikkim, is on the Samdruptse hill which was solace giving to all. Then I visited the Siddhesvara Dhaam is a pilgrimage-tourism venture of the Sikkim Government developed as "Pilgrim cum Cultural Centre" boasting an 87-ft statue of Lord Shiva and replicas of four Dhaams of the country, all at one place on the Solophok hilltop in Namchi, the four most revered Dhams of the Hindus have been replicated in this fantastic complex to benefit the devotees and tourists.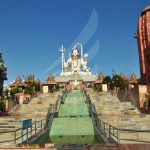 There are replicas of the "Dwadash Jyotirlingas" (the twelve jyothirlingas) of Somnath, Mallikarjuna, Mahakaleswar, Omkareshwar, Kedarnath, Bhimashankar, Viswanath, Triambakeshwar, Vaidyanath, Nageswar, Rameshwar at Rameswaram and Grishneshwar surrounding the statue of Lord Shiva. There is a grand statue of Kirateshvar Mahadev and a temple of Shirdi Sai Baba too. The Dhaam facilitates the devotees for an overnight stay at the "Yatri Niwas" which can accommodate more than 90 people at a time. After visiting these places I returned back to my hotel at Gangtok, and reached around 10.00 PM.
Fourth day, Places Covered:
Organic Farming: I had heard a lot about that Sikkim is the only state in the World having 100% organic farming, so much so, on January 19, 2016 Prime Minister Narendra Modi, in a function at Gangtok, declared Sikkim as the first organic state in the country. He also called the state a harbinger of organic farming, not only in India but around the world In fact Sikkim became the first state in India to officially announce adoption of organic farming in the year 2003 to ensure long term sustenance of soil fertility, protection of environment and ecology, healthy living and decreasing the risk of health ailments and in 2016 became the first Organic state of India. Rice is one of the most important cereal crops of Sikkim grown in all places having warm and humid climate with shallow water. It is cultivated over an area of about 14.15 thousand hectare. Important Organic Cash Crops of Sikkim, are oranges, large cardamom, ginger, turmeric, cherry paper, baby corn, buck heat, pulses etc. All these organic crops have a high demand in domestic and international markets. I decided to visit some farm houses and enquired about it. I was told to visit Sikkim Govt farm house and I went there where I found a verity of crops and fruits. Main fruits are Mandarin, Banana, Papaya, Guava etc of very good quality, which is exported to nos of countries in the World.
Khangchendzonga National Park:  Next I moved to the Western gradients of Mount Kanchenjunga, the Khangchendzonga National Park also known as Kanchenjunga Biosphere Reserve throws a number of surprises along the trekking trails. The trails lead to places like Yuksom, Dzongri, the vast Zemu Glacier, Goechala, Rathang, Bakim, Tshoka, etc.  Stretching out across an area of 850 sq. kilometres, Khangchendzonga National Park is the largest wildlife reserve in Sikkim. The vastness of this green retreat is enriched with the presence of species like the red panda, Himalayan black bear, snow leopard, and Tibetan antelope, barking deer, musk deer, flying squirrel and wild ass.
Hanuman Tok: Finally by evening I went to Hanuman Tok, built as a tribute to the Hindu Lord Hanuman, this beautiful temple is frequented by countless tourists every year. It is widely believed that Lord Hanuman rested here briefly when he was carrying Sanjeevani buti for Laxman to Sri Lanka. The temple falls into the care of the Indian Army, which has maintained it remarkably.  The ambiance of the Temple is amplified by the mellifluous religious music that graces the temple. The temple also opens up to mesmerizing views of the bordering valleys and mountains. From the temple the view of Mt. Kanchendzonga is very clear.
Fifth day, Day to say Good Bye Sikkim: 
I am sure no one can cover whole Sikkim even in ten days. Since I had my flight booked, after having breakfast, I took a taxi and left for Bagdogra Airport, and I reached in three hours as it was morning hours and traffic was less, moreover down the hills it normally takes less time. From Bagdogra Airport I took a flight and reached Delhi. From Delhi in the night I took train, Shram Shakti Express and in the morning I reached Kanpur. That was the end of my Sikkim visit.
(Writer is a Director, Greater Noida Productivity Council , Frm Director & Head, National Productivity Council, GOI)