Modi Government's Performance Scorecard
Dr.R.D.Mishra
A Performance scorecard is a strategic performance metrics used to identify and improve various internal business functions, process and their resulting external outcomes. The purpose of Performance Scorecards is to analyse and manage performance for a period of time for better and continuous improvements in the performance. The integral concepts of scorecards are targets and key performance indicators and failures in terms of gap between setting targets and achieving targets and develop strategy to tap the gap.
All the Government in the World are in the business of fulfilling their responsibilities towards their citizens in many different ways, including monitoring the economy, businesses, and banks; providing decent Health systems, maintaining the postal service, education system, roads, Airways, public utilities like water, sewer, and electricity; regulating the safety of food and medicine,etc. Since Governments are in this kind of business, needs its evaluation in terms of Performance Scorecard.
Here, I would like to take stock of the Performance Scorecard of the Present NDA Government for the period June 2014 till 15th August 2020, under the leadership of Shri Narendra Modi as Prime Minister of India. First of all we need to ascertain the target set by the Government which can be found from the Manifesto of the political parties, who promises to its citizens, if they come to power, will fulfil the aspirations of people as mentioned in their Manifesto, which is the Vision and Mission statement of the parities aspiring to come to power. Let us look at the salient features of the manifesto of Bharatiya Janata Party (BJP) during 2014 and 2019.
Before making any Score card of BJP one has to take stock of promises made by BJP in their manifesto during 2014 and 2019 Elections to the Electorate of India.
During 2014 Election Bharatiya Janata Party Manifesto mentioned almost 35 Promises under the heading Ek Bharat – Shreshtha Bharat, Sabka Saath, Sabka Vikas, Price rise, Unemployment ,Corruption, policy Paralysis of erstwhile Govt, poor delivery, credibility Crisis, Team India, Integrating the Nation, Decentralisation, India first, Good Governance, E-Governance, Administrative Reforms, Judicial Reform, Electoral Reform, Minority Isue, Health, Skill, Women, Education, Agriculture; Doubling Farmers Income by 2022, addressing farmers Issues, Industry, Service, Labour, Housing, Water Energy, Science & Technology, Internal and External security, Ram Mandir, Ganga, & River Cleaning Programme, Foreign Relations, Uniform Civil Code, War Memorial, etc.
During 2019 Election Bharatiya Janata Party Manifesto mentioned almost 75 Promises under the heading
Nation First; Zero-Tolerance Approach to Terrorism, National Security, Strengthening our Armed Forces, Self-reliance in defence sector, Welfare of Soldiers, Modernization of Police Forces, Combating

Infiltration, Reinforcing Border Security, Coastal Safety, Citizenship Amendment Bill, Combating Left Wing Extremism.
Doubling Farmers' Income; Welfare of Farmers, Development of Argi-allied sectors, Expanding Irrigation in Mission Mode, Cooperatives, Convergence of Agriculture and Technology, Animal Husbandry, Fisheries – Blue Revolution,
On the Path of Gram Swaraj; Saashray (Housing), Sujal (Drinking Water), Suchna se Sashaktikaran (Digital connectivity through Bharatnet), Sadak se Samriddhi (Road connectivity), Swachhata se Sampannata (Swachh Bharat Mission)
India as the World's 3rd Largest Economy; Roadmap for 5 trillion dollar economy, Tax Policy, Goods and Service Tax, Promoting Yoga Globally, ₹100 lakh crore Investment in Infrastructure sector by 2024, Make In India, Making India a global manufacturing hub , Micro, Small and Medium Enterprises, Entrepreneurship & Startsups, Using Tourism to Cluster Services, Transparent economy, International Trade,
Infrastructure; Foundation for New India, Ensuring Urban Development, Swachh Bharat Mission, Jal Shakti, Road Connectivity, Railways, Establishment of New Airports, Coastal Development, Energy, Digital Connectivity,
Health for All; Making Healthcare Accessible, Strengthening Health Infrastructure, Immunization and Nutrition, Eliminating Tuberculosis,
Good Governance; Simultaneous Elections, Corruption-free Bharat, Civil Service and Governance Reforms, Police reforms, Judicial Reforms, International Financial Services Centre Authority, Implementing Cooperative Federalism Effectively, Ease of Living, Forest and Environment, Protecting the Himalayas, Focussing on Island Territories, Focussing on Union Territories, Development of North-eastern States,
Yuva Bharat – Tomorrow's India; Creating opportunities for Youth, Youth In Governance, Sports,
Education for All; Primary and Secondary Education, Higher Education, Skill Development,
Women Empowerment; Women-led Development, Ensuring Equal Rights, Ensuring a

dignified Life for Women, Reservation for Women,
Inclusive Development; Ensuring Justice for All, Strengthening 'Sabka saath

Sabka Vikas', Ensuring welfare of Poor, Responsive to the Needs of Apparitional Middle Class, Commitment to Geographical Equity, Development with Dignity for the Minorities, Caring for the Elderly, Enabling Divyangs, Political resolution on the matter of Gorkha, Ensuring welfare of the Labour Force, Pension Scheme for all Small Shopkeepers, Ensuring Welfare of Artisans, Protecting Our Children, Empowering Transgenders.
Cultural Heritage; Ram Mandir, Conserving Bharatiya Faith and Culture, Conserving Bharatiya Linguistic Culture, Namami Gange: A maer of Pride, Sabarimala, Promoting Yoga Globally, Bharatiya Cultural Festival, Dharohar Darshan, Uniform Civil Code.
Foreign Policy; 'Vasudhaiva Kutumbakam', Global Coordination on Knowledge and Technology, Continuous Dialogue with Indians Living Abroad, Deeper Multilateral Co-operation, Permanent membership of the United Nations Security Council, Strengthening the Diplomatic Cadre and Outreach,
While making an assessment of the BJP Government, for the mentioned period one has to keep in mind the Challenges and diversities of the political partied in Indian states, as there are some states with different Ideology like, Kerala, West Bengal, Delhi etc who will oppose the policies of BJP on every count. Even then when we assess the Score Card/ performance indicator, I get the following points in terms major Achievements and Shortcomings which are as such;
Major Achievements:-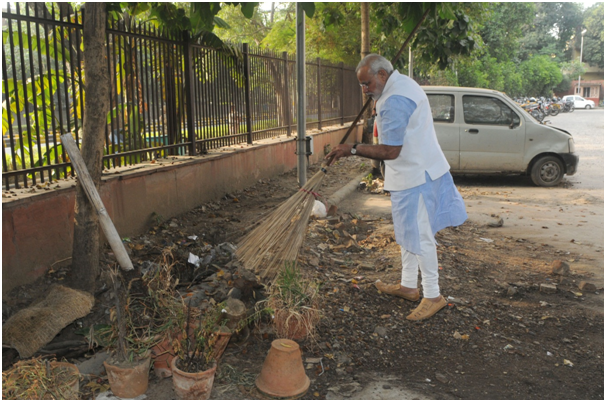 Swachch Bharat Aviyan: The Swachh Bharat Abhiyan is the most significant cleanliness campaign by the Government of India. Shri Narendra Modi led a cleanliness pledge at India Gate, which about thirty lakh government employees across the country joined. Mr Modi gave the mantra of 'Na gandagi karenge, Na karne denge. Under the drive Since October 2014, over 10.5 Crore toilets have been built 36 states and union territories, 706 districts and over 603,175 villages have been declared open defecation free as of Jan 2020. The Swachh Bharat Abhiyan campaign would have been more successful if it would have been supported by a piece of legislation with strict rules or heavy penalties as it is in Singapore. Anyway, never in the Indian history such a drive was taken to fulfil the aspirations of Mahatma Gandhi, which was "Clean India, Productive India"
Abolition of triple Talaq; A major achievements in the civilised history of India, which could be achieved after a bill followed by a

Supreme Court ruling in 2017,that the practice of instant triple Talaq is unconstitutional and a divorce pronounced by uttering Talaq three times in one sitting is void and illegal. In December 2017, citing the Supreme Court judgment and cases of triple talaq in India, the government introduced The Muslim Women (Protection of Rights on Marriage) Bill, 2017, which no previous Govt could dare.

Ram Mandir in Ayodhya: One of the greatest achievements of BJP Government is the wining of the case of Sri Ram Mandir case from Supreme Court of India in favour of Hindu. Hindus believe the site to be birthplace of Rama, at Ayodhya whom they worship as seventh avatar (incarnation) of Vishnu. In 1528, the Mugals erected a mosque on the site of Hindu Temple, the Babri Masjid. Dispute over the rightful use of the site by Hindus continued for almost 492 years including court cases then finally, The Supreme Court in its Nov 2019 verdict, ruled in favour of the Hindu organisations and directed that a temple for Rama be constructed at the site. On 5th Aug 2020 a day to be written in the history as Golden day for Hindu, when Bhumi Pujan rituals

was performed by Shri Nrendra Modi, Prime Minister of India.
Scrapping

of Article 370 & 35 A: Govt revoked two key constitutional provisions Article 370 and Article 35(A) that gave the state of Jammu & Kashmir a host of special rights. Under this article, the centre needs the state government's concurrence to apply laws, except in defence, foreign affairs, finance and communications, it means the state's residents live under a separate set of laws, including those related to citizenship, ownership of property, and fundamental rights, as compared to other Indian states. As a result of this provision, Indian citizens from other states cannot purchase land or property in Jammu & Kashmir.
After Kashmir's special status is gone, people from anywhere in India will be able to buy property if the person is residing since last ten years and settle permanently in the state.
Now, Jammu and Kashmir minus Ladakh region has been made Union Territory and after restoration of peace it will have its own Statehood status. Ladakh region has been made another Union Territory which was the long pending demand of the region as I had talked to the many people of Ladakh on several occasions. This is a daredevil act of Modi Government which was welcomed by Indians & people across & the World.
Jan Dhan Yojana: Under the scheme 40 Crore bank accounts were opened without any deposit to facilitate the benefits of Government Schemes go to poor and down the line of Society.
Make In India; This program was to place India on the world map as a manufacturing hub and give global recognition to the Indian economy. Manufacturing sectors has emerged as one of the high growth sectors in India and has become one of the most attractive destinations for investment in the manufacturing sector. Capacity utilisation in India's manufacturing sector stood at 69.1 per cent in the second & third quarter of 2019-20. Some of the major drift in policy is in May 2020; Government increased FDI in Defence manufacturing under the automatic route from 49 per cent to 74 per cent. Under the Make in India initiative, Government aims to increase the share of the manufacturing sector to country's GDP to 25 per cent by 2025.
Modernisation of Armed forces: The NDA government has so far spent more than Rs 2.37 lakh Crore on the modernisation of armed forces according to Ministry of Defence. In fact, looking at the threat from the neighbouring Countries, particularly China and Pakistan, India has become the second largest importer of Arms and ammunition in the World, after Saudi Arabia. This has developed Confidence and boosted the moral of the armed forces, and gives a message to the neighbouring Countries.
Drive for Digital India: No country can progress without the intervention of ICT in all walks of life. Digital technology has become a vital factor in accelerating the pace of India's economic growth, in promoting social and economic equity by enhancing access for all to information, markets and public services; and in overcoming the country's infrastructure deficit. Digital technology helped India realising the ambition of creating a just and equitable society and Digital transfer of subsidies to needy. Government is helping technologically and financially to State Governments also

to become Digital. Introduction of Govt electronics Market place (GeM) is a glaring Example towards bringing transparency through digital intervention.

Presently

many wings of Government Like Ministries, Corporations,

PSU, Passport Offices, Autonomous bodies including National Productivity Council have become digital. During COVID-19, NPC conducted more than 300 Webinars on Productivity related subjects and benefitted more 32,000 delegates. Today due to Digital India all educational Institutes including Schools are imparting educations digitally. Recently PM inaugurated Optical fibre line for Andaman & Nicobar Island, which is another millstone of Digital India Drive to make India Self reliant, promote tourism and most competitive in the World Economy.
Ayushman Bharat: The health insurance scheme launched during September

2018, has already benefited 30 lakh poor patients who could not afford any kind of health Insurance and

500 million Indians who could not afford medical treatment for non-communicable illnesses like cancer and heart disease now have access to free healthcare. On 15th Aug 2020, Prime Minister announced Digital Health card is another mile stone in this area.
Implementation of Goods and Services regime: GST regime integrates different taxes such as Central Excise, Service Tax, Sales Tax, Luxury Tax, Special Additional Duty of Customs, etc. into one consolidated tax. It prevents multiple tax layers imposed on goods and services which facilitates and provide relief to Industries, Businessmen and professionals. Step by step Govt is easing

out corporate tax structure and Personal Income tax.
Rural Electrification: The NDA government's efforts to provide electricity to almost 6 lakh villages is another milestones of achievements when a remote village in the north-eastern state of Manipur became the last to be connected to the grid.
Free LPG cylinders: Under the Ujjwala Yojana scheme, women in villages now have access to cooking gas. This has given both health and economic benefits. Over 80 million free LPG connections have been given with nearly 50 per cent going to SC/ST households.
[[[[[[[[[[[[[[
Surgical Strikes; After the Uri attach by Pakistani terrorist, India carried out surgical strikes in Pakistan Occupied Kashmir, inflicting heavy casualties on terrorists and 'those protecting them" and indicating a change of stand on the rules of engagement on the disputed line of control. This has given a befitting reply to enemy saying never dared to do so.
Yoga Mantra; Yoga is a physical, mental and spiritual practice which originated in India. Prime Minister, Narendra Modi, in his UN address suggested the date of 21 June, as International Yoga day to be celebrated across world, as it is the longest day of the year in the Northern Hemisphere. The World Health Organization mentions yoga as a means to improve health in its Global action plan on physical activity and a source of De-Stressing for achieving higher Productivity.
Good Governance: is a comprehensive terminology which defines the way Country's resources are managed for the wellbeing of all. Good Governance is participatory, consensus-oriented, accountable, transparent, responsive, effective and efficient, equitable and inclusive, follows the rule of law should be the Principal of Government. by NDA Government which is for the wellbeing of its Citizen may be worth mentioning here Like, The Insolvency and Bankruptcy Code, Farmers covered under the PM Kisan Yojana, Introduction of New Education Policy for better future of Students vis a vis of Country, War Memorial for martyred Soldiers at Delhi, Women Empowerment Policy, Development of Infrastructure like Road, bridges by NHAI which completed 4000 KM during 2019-20, 3380 KM during 2018-19, Development of transport facilities like, Metro, Rail, Corruption index is reduced, Expansion of Airlines and Airports, Skill Development Initiatives etc.
Major Shortcomings: – There are some shortcoming of the Modi Government which requires to be mentioned which are as such;
Namami Gange Programme; an Integrated Conservation Mission, approved as 'Flagship Programme' by the Union Government in June 2014 with budget outlay of Rs.20,000 Crore to accomplish the twin objectives of effective abatement of pollution, conservation and rejuvenation of National River Ganga. This programme did not yield desired result. A report by the Comptroller and Auditor General (CAG) blamed "unused funds," "the absence of a long-term plan" and "lack of pollution abatement works" for obstructing the Ganga cleaning process.
Employment generation: The party manifesto in 2014 promised 25 Crore jobs over 10 years, that means 2.5 Crore jobs every year. And the Govt claims as many as 8.5 million young people have got jobs under the government's flagship employment generation scheme, the Pradhan Mantri Rojgar Protsahan Yojana (PMRPY). There seems to be some difference of opinion on the issue of real job opportunity creation and needs to be achieved the target.
Hundred Smart City; In 25 June 2015, the Government announced its plan to build 100 smart cities and rejuvenate another 500 cities. Subsequently, A total of ₹98,000 Crore (US$14 billion) was approved for 100 cities, and upgrading of 500 cities. By January 2018, 99 cities under the Smart City Mission were selected for the next evolution in urban infrastructure and planning. But we have yet to see coming up of Smart Cities. In fact this mission cannot be achieved alone by Central Government unless State Government, Municipalities and People cooperate.
Doubling the farmers Income; In 2016, Prime Minister Modi declared his government would double farm incomes by 2022-23. For this purpose a committee was constituted which

has identified seven sources of income growth for farmers namely, improvement in crop productivity; improvement in livestock productivity; resource use efficiency or savings in the cost of production; increase in the cropping intensity; diversification towards high value crops; improvement in real prices received by farmers etc. Although the Govt is working on mission mode, and it will be too early to comment on this as the target is said to be achieved by 2023.
Housing for all by 2022; 'Housing for All by 2022' has been one of the key objectives and long cherished dream of the Modi Government right since its first tenure. Housing, which is not only one of the very basic requirements of the human beings, but is also one of the largest employment generating sectors of the economy, be it labour intensive construction industry, cement, steel, timber and many other ancillary industries that support the housing/ real estate development sector. While the Government is building houses, primarily for the Economically Weaker Sections, a large portion of demand for housing is currently served by the private sector builders/ developers. Recently The Centre has come up with a ₹25,000 Crore bailout package for the troubled real estate sector. The Centre will contribute ₹10,000 Crore, while the rest is likely to come from banks and the Life Insurance Corporation of India. Critics find this difficult to achiev, but the Govt is working on mission mode and it will be too early to comment on this as the dead line is 2022.
Combating Insurgency; The Indian army has conducted various operations to control and eliminate insurgency in the Kashmir region such as Operation Sarp Vinash, including surgical Strikes, in which a multi-battalion offensive was launched against terrorists groups sponsored by Pakistan, like Lashkar-e-Taiba, Harkat-ul-Jihad-e-Islami, al-Badr and Jaish-e-Mohammad who had been always violating the line of Control. Modi Govt is deploying along its volatile border with Pakistan a smart Israel-developed fencing system having a 'quick response team' mechanism which strikes when the CCTV-powered control room detects an infiltration attempt, after that we hope scale of insurgency will come down.
Achieving 5 Trillion Economies; India is, currently, having

$2.8 trillion economy and to reach the $5 trillion mark by 2024 is only possible if the economy grows at 9 per cent per annum in a sustained way for 5 to 6 years as of now. Of course Covid-19 Pandemic has retarded economic growth, which has to be tacked with meticulous policy & Planning after Post Pandemic. We should be optimistic as still there is a period of four years.
Conclusion: In fact, no Govt in the world is able to fully satisfy the aspirations of their people/ manifesto promises and shortcomings are bound to take place. The reason is when the Government prepares the manifesto with lots of promises to lure citizens, it is for the future and the future is always unpredictable. The COVID- 19 Pandemic has badly disturbed the World economy, apart from loss of 8 lakh precious lives globally. In India total death are more than 51,000 people as on date, apart from this one rough economic estimate says that due to first 21-days of complete lockdown Indian economy lost over ₹32,000 crore (US$4.5 billion) every day, 53% of businesses in the country were projected to be significantly affected. Under the situation I am of the opinion that Performance score of the Modi Government is fairly well. If it is to be put in Likert numeric scale between 0 to 10, then NDA Government deserves a score of 8.
This is the personal opinion of the writer
Dr. R D Mishra ,
Director,
Greater Noida Productivity Council
Frm Director & Head, National Productivity Council, GOI
*************