Enchanting Andaman & Nicobar Island
The Andaman and Nicobar Islands, is a Union territory of India comprising 572 islands out of which 37 are inhabited. This group of islands is at the juncture of the Bay of Bengal and the Andaman Sea. The territory is about 150 km north of Aceh in Indonesia and separated from Thailand and Myanmar by the Andaman Sea. Port Blair is the capital of A & N Island. I had an opportunity to explore Andaman Nicobar Island more than 15 times when I used to conduct residential Seminars for the corporate & Govt Officials.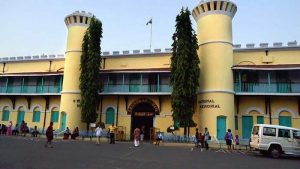 Background of A & N Island?
Organised colonisation of the Andaman and Nicobar Islands by the Europeans began in December 1755 with the arrival of Danish settlers who declared them to be a Danish colony, first named New Denmark and later Frederick's Islands. Thus, the Andaman and Nicobar Islands became a part of British India in 1869.Britishers explored Andaman as a suitable place to establish a penal colony for offenders mostly freedom fighters from British India. It became part of India in 1950 and was declared as a union territory of the nation in 1956. India has been developing defence facilities on the islands since the 1980s. Strategically it has become more important as nearest county Myanmar, where Chinese have built Air base. Japanese capture A & N Island in March 1942, and left during Second World War. On December 29, 1943, Netaji Subhas Chandra Bose arrived in Port Blair, for a three-day visit as part of Indian Freedom movement. During the visit, he would hoist the Indian Tricolour at the Gymkhana Ground which is today's Netaji Stadium at Port Blair. Presently the population of A & N Island is around 4.7 Lakh, and mostly inhbitated by Bengali, Tamilian, Hindi Speaking people, Malyali, and Andman Creole Hindi Jarawa is a tribal people. The Andaman Islands are home to four 'Negrito' tribes – the Great Andamanese, Onge, Jarawa and Sentinelese. The Nicobar Islands are home to two 'Mongoloid' tribes – the Shompen and Nicobarese.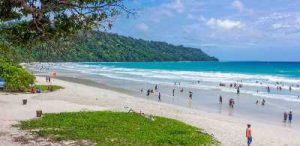 How to reach Port Blair?
There are flights from Delhi, Kolkata & Chennai, & Bangalore. A & N Island can be reached by Ship from Chennai and Kolkata. The total distance from Kolkata is 1302 KM and from Chennai is 1367 KM.
Places to Visit in A & N Island
1. The Cellular Jail- also known as Kālā Pānī (Hindi for black waters), was a colonial prison in the Andaman and Nicobar Islands, The construction of Cellular Jail building at the sea sore started in 1893 by British Govt and was completed in the year 1906. It is a six wing, triple storied building having 696 Cells with no dormitories; each cell was measured at 15×8 in size with a ventilator located at a height of 3 meters. The Jail was constructed in such a manner that the front of one wing faced the back of the other, hence, stopping any communications between the convicts. . It was called as 'Cellular Jail' because it is entirely made up of individual cells for the solitary confinement of our freedom fighters. Presently it has got only three wings remaining as two wings got swayed by the rough weather & water of Sea and one wing has been converted into Hospital called G.B.Pant Hospital. It is worth visiting so as to feel the worst kind of torture and sufferings meted to our freedom fighters. It will give us feelings that we had to pay heavily for our freedom.
2. Netaji Subhash Chandra Bose Island, formerly known as Ross Island, in the South Andaman administrative district. Andaman and Nicobar Islands. The island is situated 3 km east from central Port Blair, and one has to go by ferry from Rajiv Gandhi Jetty point. It is famous for the historic ruins are a tourist attraction and avid collection of some of the oldest British and Japanese structures (Japanese Bunkers) in India that shows the luxurious life of Britishers after they occupied Andaman.
3. Swaraj deep Island- On 30 December 2018, Prime Minister Narendra Modi announced that Havelock Island would be renamed as Swaraj Island, is the one of the largest islands that comprises a chain of islands to the east of Great Andaman in the Andaman Islands. It belongs to the South Andaman administrative district, part of the Indian union territory of Andaman and Nicobar Islands. The island is 41 km northeast of the capital city, Port Blair and can be reached by Govt and Private fast boats. The Radha Nagar beach is one of largest beaches in India. A pristine beach backed by turquoise water and lush forest, where you can relax and have a leisurely time.
4. Middle Andaman- is the name of the southernmost tip of India. It is situated on Great Nicobar Island in the Nicobar Islands, which are located in the eastern Indian Ocean. The Indira Point lighthouse was commissioned into service on 30 April 1972. On 26 December 2004, the coasts of the Andaman and Nicobar Islands were devastated by a 10 m (33 ft) massive tsunami following the undersea earthquake off Indian Ocean and The Indira Point was worst hit along with entire Andaman & Nicobar Island.
5. Diglipur- is the largest town of North Andaman Island, in the Andaman. The city is located on the southern side of Aerial Bay, at 43 metres (141 feet) above sea level, 300 kilometres north of Port Blair. It is a tropical heaven with some of the rarest attractions in the world, and explore the azure blue waters and pristine beaches.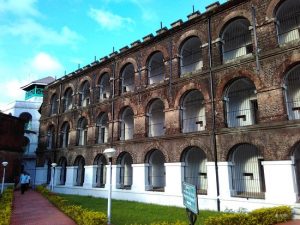 6. The North Bay Islands is famous for rich growth of the coral reefs and several types of water sports activities. You can indulge in various types of activities and enjoy like Scuba Diving, Snorkelling, Sea Walking, Glass Bottom Boat Ride, and semi submarine coral safari to name a few.
7. Barren Island is located at a distance of 35 kms of Port Blair, is famous for only active volcano in South Asia, the Barren Island volcano is the northern most volcano in the Indonesian arc. The island is famous as a rare and interesting scuba-diving destination.
8. Port Blair on South Andaman Island is the capital city of the Andaman and Nicobar Islands, an Indian territory in the Bay of Bengal. Its seafront is Cellular Jail, completed in 1906, hints at its past as a British penal colony and is now a memorial to Indian independence activists. Inland, the Samudrika Marine Museum showcases local marine life. The Anthropological Museum focuses on the islands' indigenous tribes.
9. Jolly Buoy Island is amongst the archipelago of the Andaman and Nicobar Islands. It is a part of Mahatma Gandhi National Park. The clean and serene water with white sand beaches will provide for a great vacation. You will be able to explore the rich marine life including colourful corals reefs and fishes in this place with the means of water activities.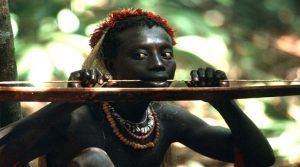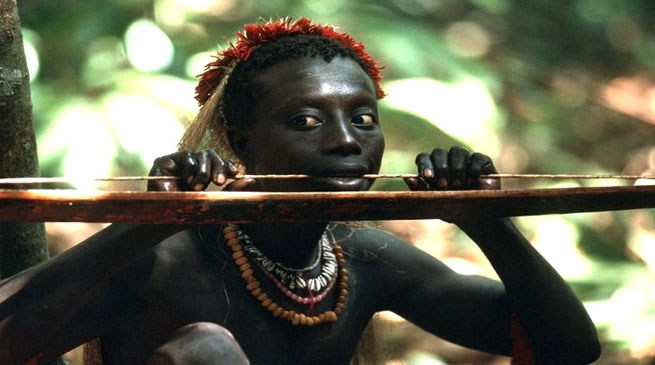 10. The Jarawas Tribes are an indigenous people of the Andaman Islands. They live in parts of South Andaman and Middle Andaman Islands, and their present numbers are estimated at between 250–400 individuals. To visit Jarawas tribes/villages , one has to get permission from the authorities.
The whole Andaman Nicabar is a beautiful place, where one can visit and learn about their traditional Cottage Industry, enjoy Scuba diving and see the aqua life which is very unique experience and enjoy the nature with no pollution.
Dr.R.D.Mishra